Over the past week, I've had to force myself to put down the needle and thread and do normal, ordinary things like... feed my son lunch, unload the dishwasher because there are no clean plates left, get dressed, LEAVE THE HOUSE FOR CRYING OUT LOUD. And I am a total (proud!) nerd for saying this, but it's because those felt food projects are just too fun. And easy. And I don't even care that Finn and I leave the house with so much felt fuzz and thread clippings stuck to our clothes that it looks like we have a Persian cat! I also got such a fun response from everyone on my personal Facebook page regarding
Tuesday's post
that I contacted Sweet Emma Jean about her patterns. And she's agreed to do VVM's first ever giveaway. I couldn't be more proud and excited!
So, now on to the best part-- the free loot! Katie is giving away a package of three patterns; the winner gets to choose from the following patterns: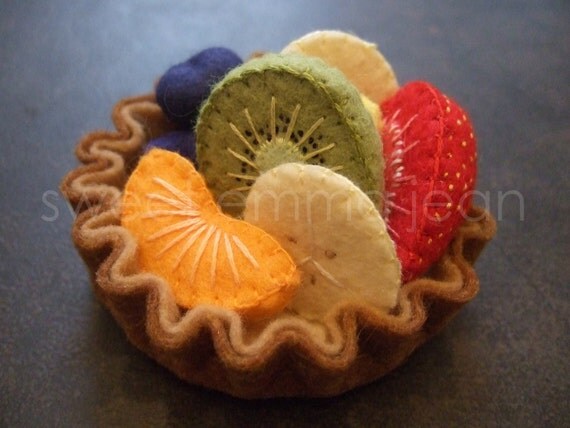 Fruit Salad & Fresh Fruit Tart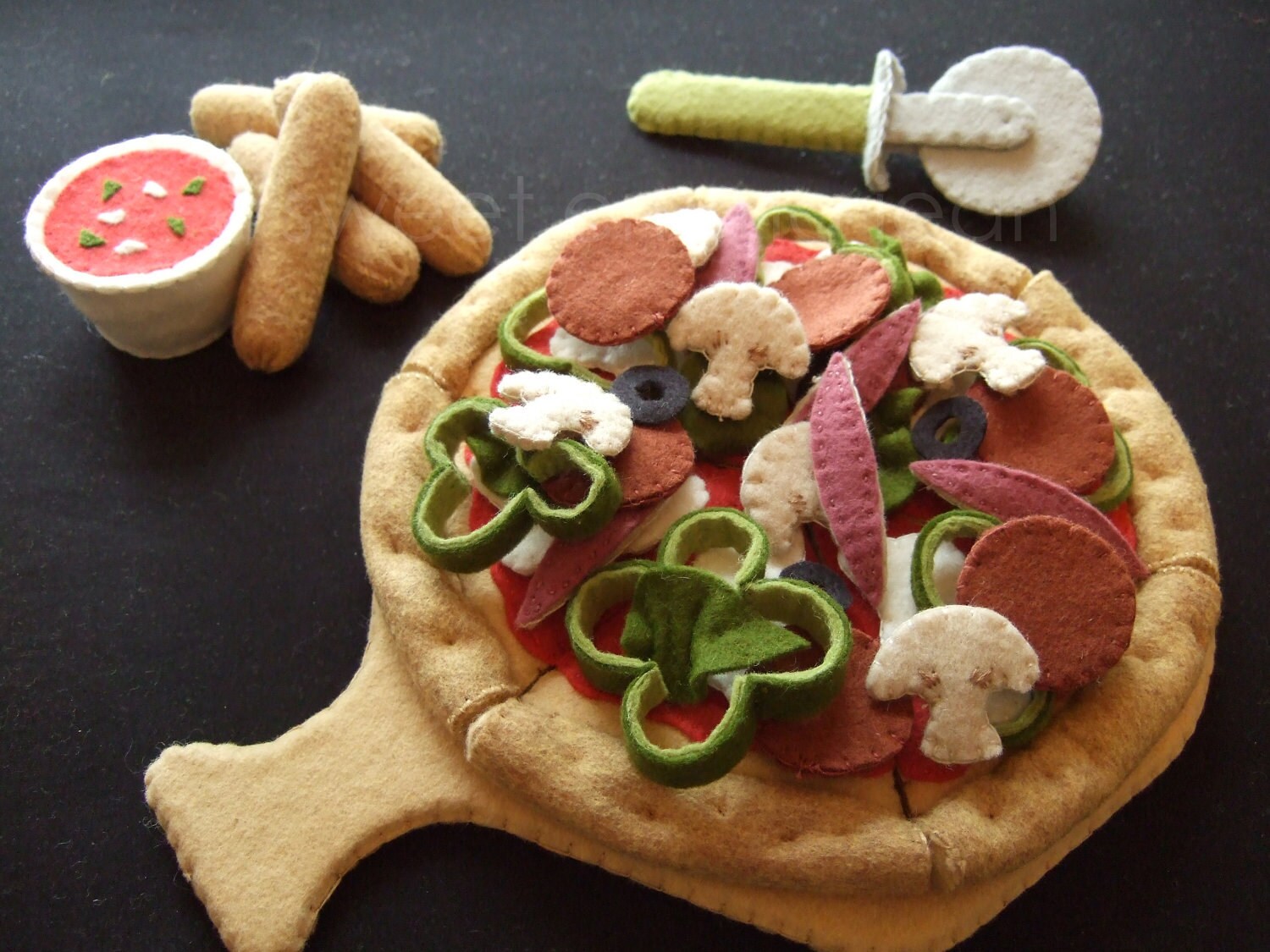 Pizza Party!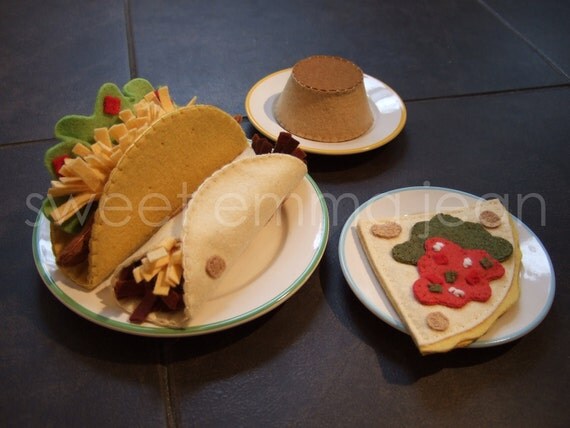 Taco Dinner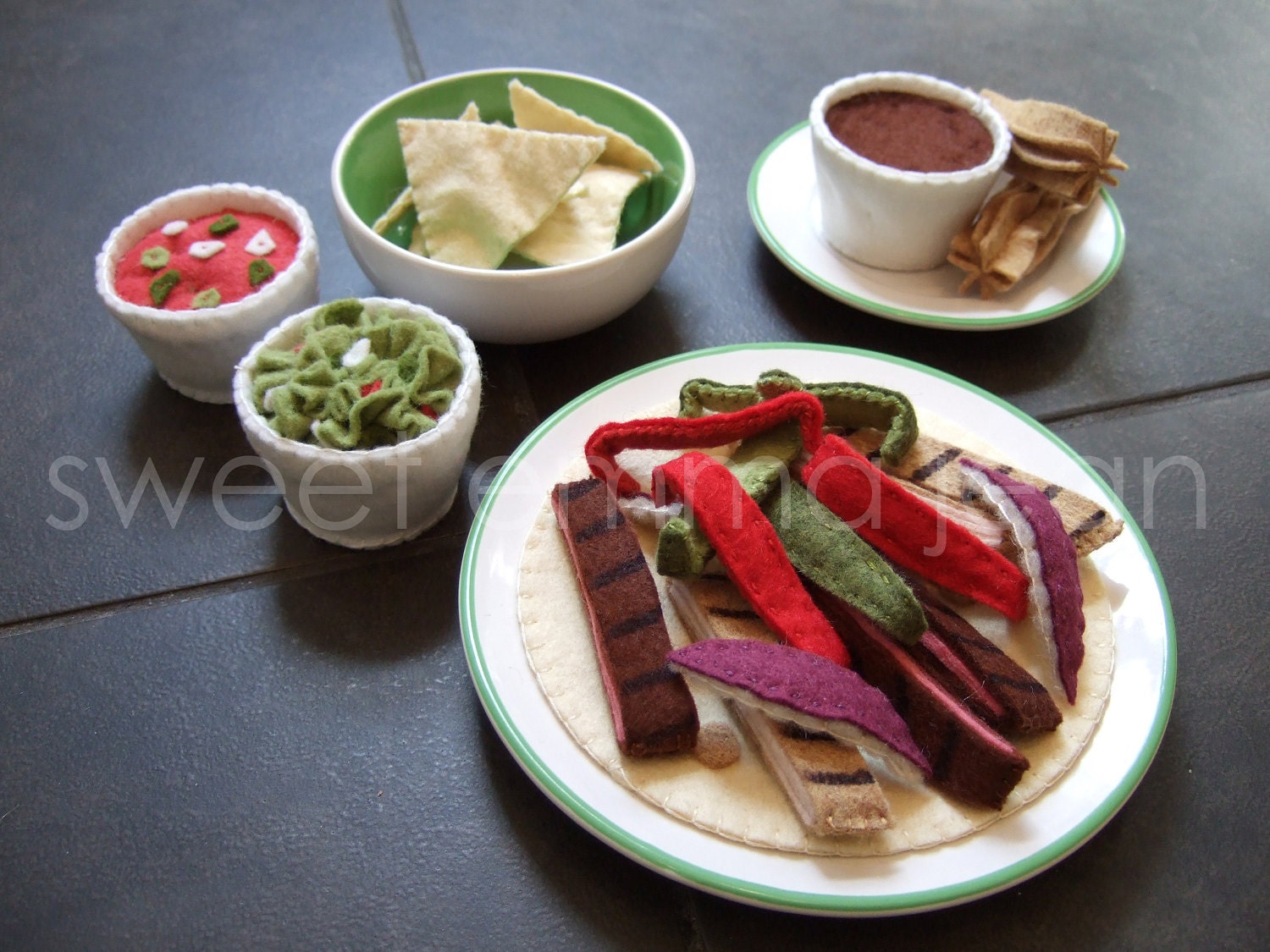 Fajita Dinner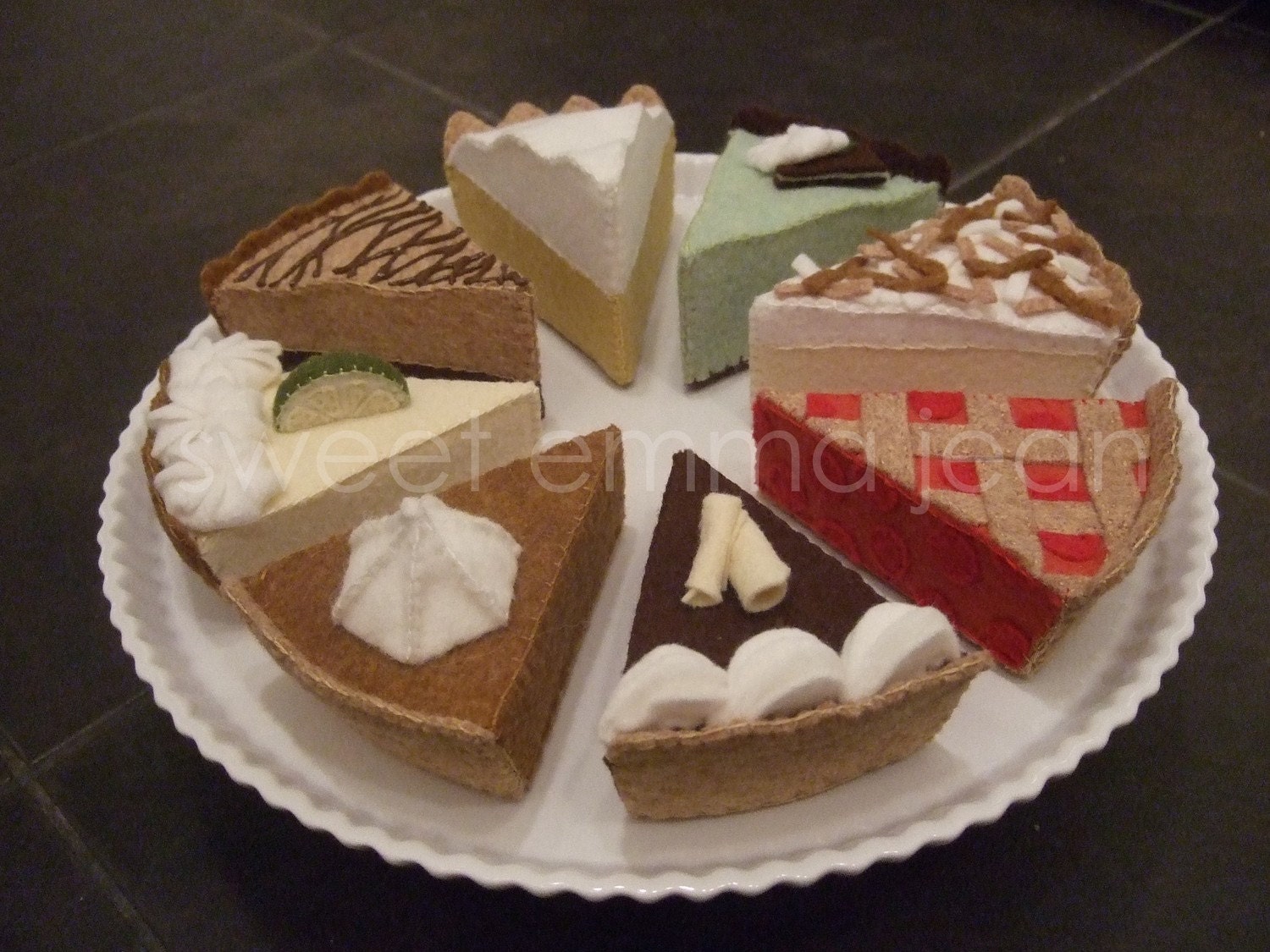 Yummy Pie Assortment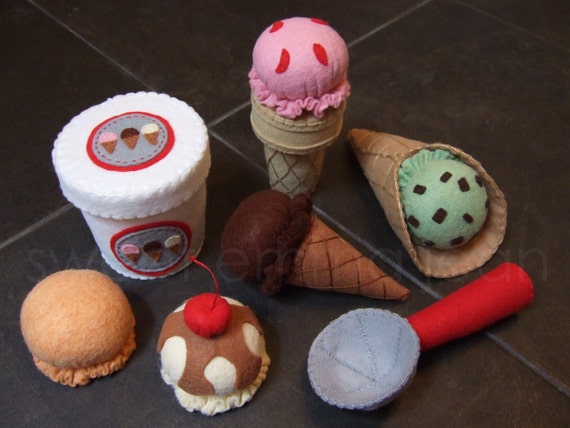 Ice Cream Set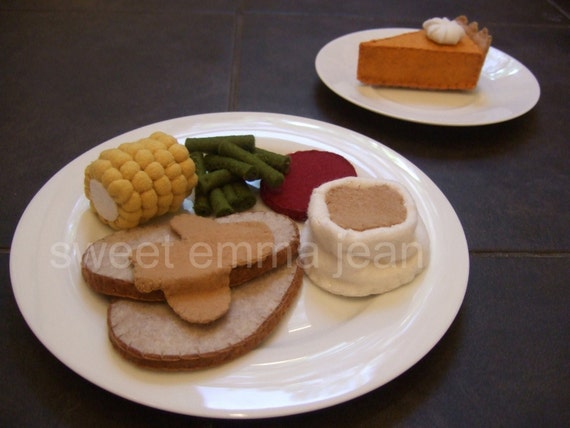 Thanksgiving Dinner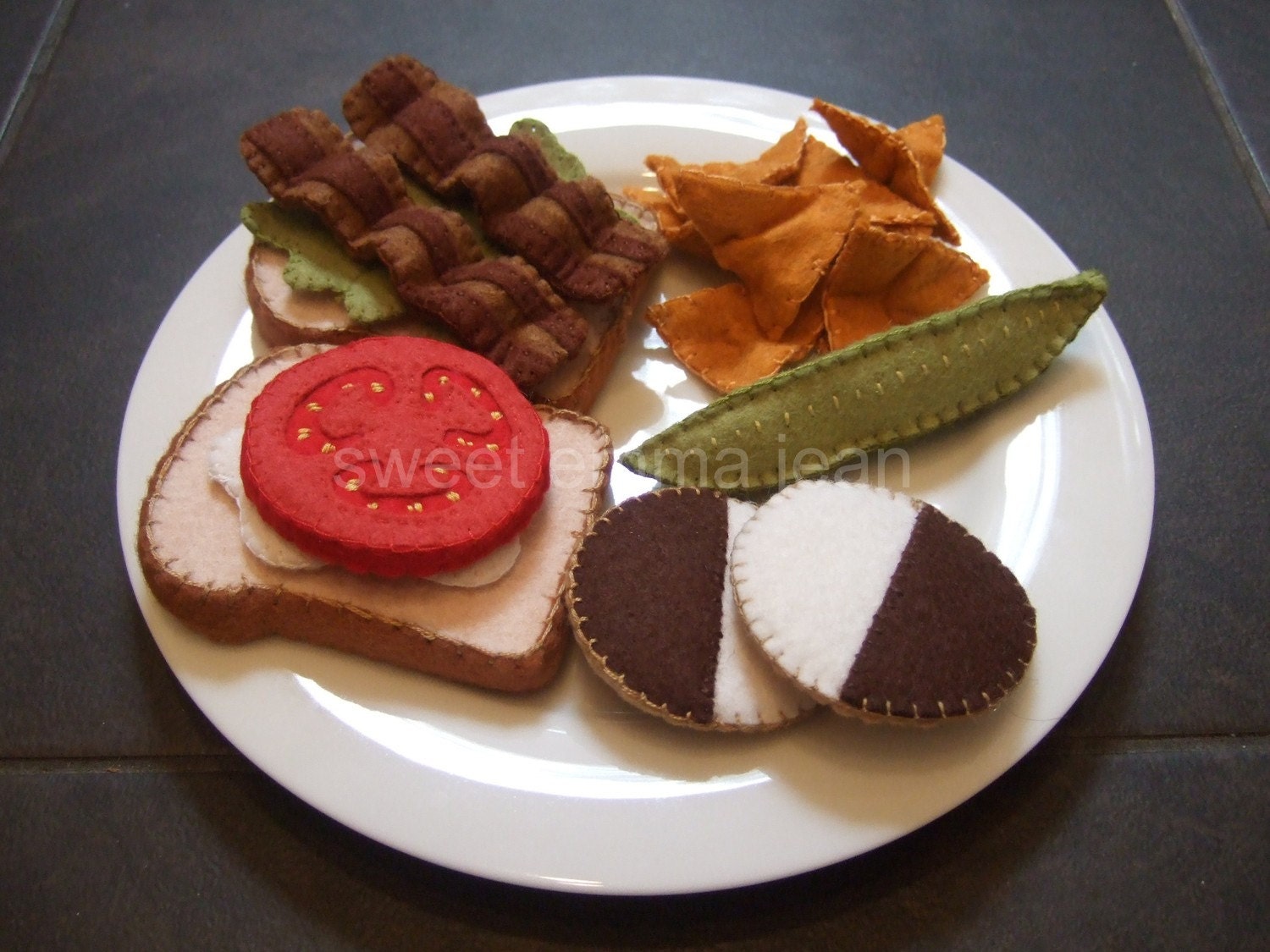 Deluxe Lunch Set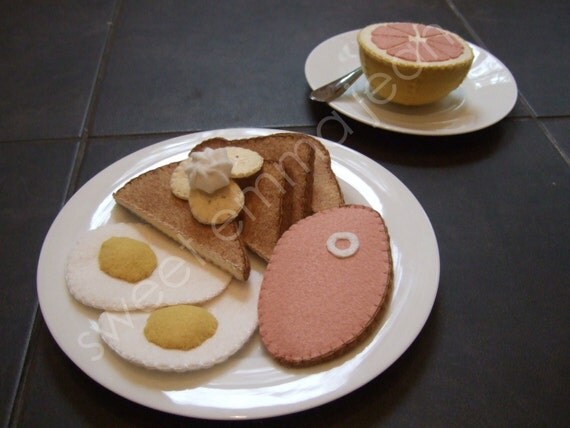 French Toast Breakfast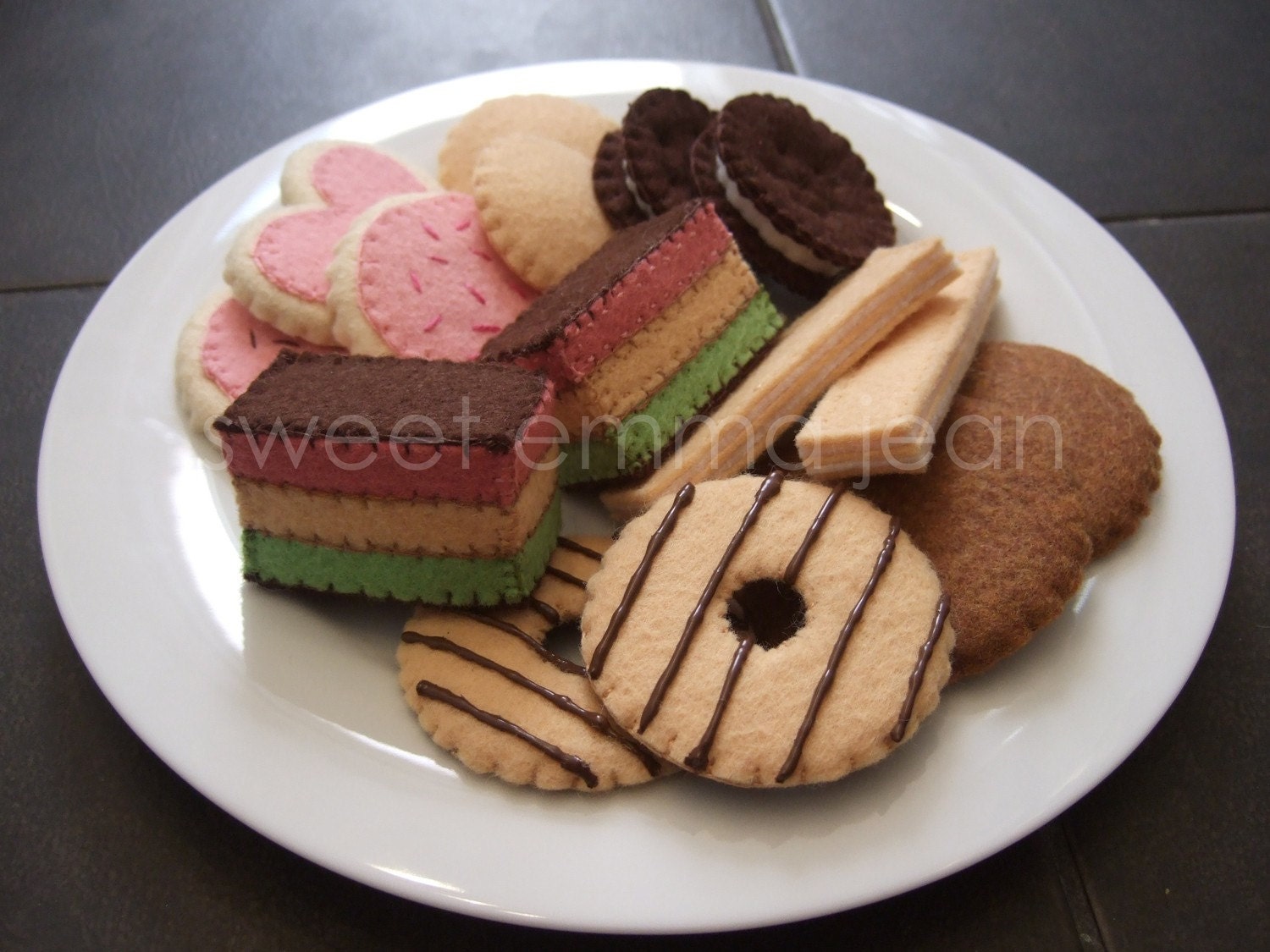 Tea Party Cookie Assortment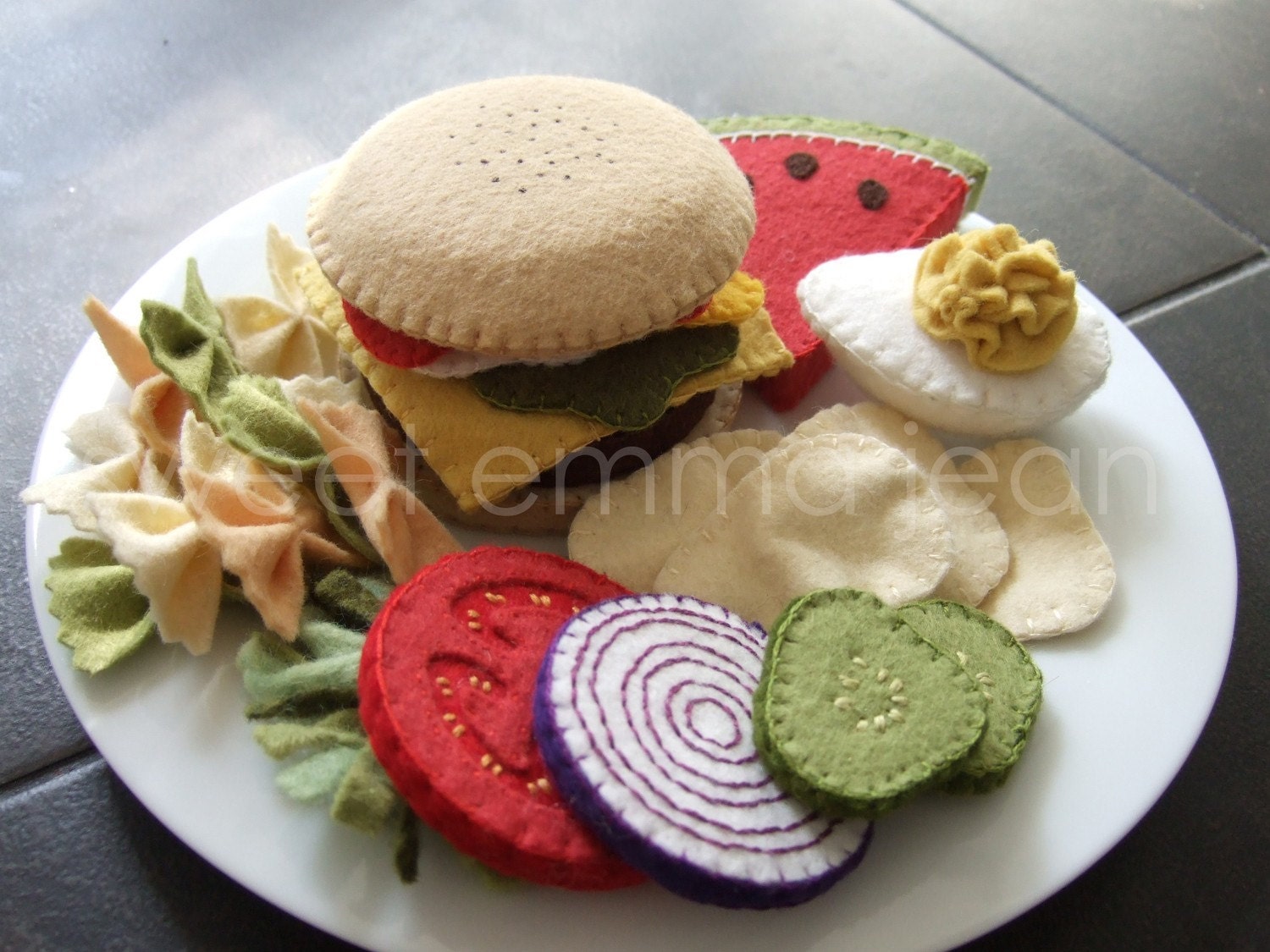 Summer Cookout Set
Don't be afraid to enter for the drawing because you think you can't sew or don't have time. Honestly, if you're out here reading blogs and messing around on Facebook, take a click over to YouTube to see some easy tutorials on how to
blanket stitch
and
whip stitch
. And if you're also daunted by the materials needed for these kind of projects, I've got even better news -- it's very minimal and the fanciest thing you'll have to buy is a pack of $2.99 embroidery needles. Sweet Emma Jean also offers felt bundles that are specifically for each pattern if you want to make it even easier. So here's whatcha gots to do:
"Follow" this blog! Click on "follow" in the upper left-hand corner of the screen. Already following me? I'll automatically put your name in the drawing.
"Like" Sweet Emma Jean on Facebook by clicking here.
And to get your name thrown in the lottery a few extra times, you can take these additional steps:
Mention VVM in your own blog and comment back to this post with your new posting.
Go to Sweet Emma Jean's website and comment back to this post on what your favorite item is.
It's that easy! This is open through Monday, November 21st! Katie will email the patterns the winner chooses as PDF files.
I also asked Katie of Sweet Emma Jean to tell me a little about herself. After all, in the bloggie world, it's so easy to forget your manners when you don't actually meet someone face-to-face:

Vintage Violet Mama: Why did you start crafting?
Sweet Emma Jean: I've always been "crafty." When I was little I would make all my own dollhouse stuff - furniture accessories, food, etc. Then when I had my baby I got a little bored (she was a blessing and napped a ton!) so I started making her some felt baby shoes and then the ball just kept rolling from there.

VVM: Have you always been a sewer?
SEJ: I learned to sew on the machine from my mom, who was/is a quilter. I self-taught myself to hand sew the baby shoes and felt food in my shop.

VVM: Why felt?
SEJ: Felt is awesome to work with. So many beautiful colors and it's so forgiving. There's no front or back, no bias, no hemming necessary. You just cut and sew (or glue).

VVM: Advice for aspiring crafters...
SEJ: Advice - hmm... push yourself. Things you think are too hard probably aren't. Like my felt food. It looks hard to make but it's easy. I taught myself some of the stitches by looking at videos on YouTube! Anyone can do it. And it doesn't take much time. Oh, and don't use cheap materials. You're going to spend the time to make these things, so won't it be a shame if they fall apart or look cruddy after a few years because you skimped on materials?

VVM: Anything else about yourself that lead you to where you are today?
SEJ: I'm a stay-at-home mom to a 2-1/2 year old, and I've got another due this spring. I'm an architect but now apply my skills toward making shoes and designing patterns rather than buildings (my background is hugely helpful!). Oh, how much happier I am doing this rather than designing buildings?!?